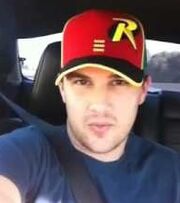 Christopher Robin III is a law student who tried to help
Alex
get a restraining order when he was being stalked by
The Receiver
.
When that didn't work, he and Matt Shark staked out at Alex's house to protect him. This resulted in Alex's change of heart and becoming nice.
Ad blocker interference detected!
Wikia is a free-to-use site that makes money from advertising. We have a modified experience for viewers using ad blockers

Wikia is not accessible if you've made further modifications. Remove the custom ad blocker rule(s) and the page will load as expected.