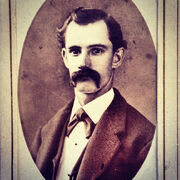 Bob was the biggest jerk in Dopplerville during 1777, and as a result was a victim of Splendor Man.
First, his house was invaded by kittens. When he escaped the kittens, Splendor Man was not happy.
Eventually, Bob was defeated by a Splendor Man throwing glitter at him.
He is currently considered the first known Grumpy-Wumpy Splendor Man has encountered.