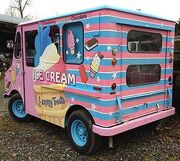 WOW! THERE'S A LOT OF PEOPLE NAMED ALEX!!!
He owns an Ice Cream Truck and gives out free ice cream. No one has ever seen what he really looks like.
He is also in charge of catering at all of Splendor Man's parties.
There are rumors that Alex is actually the truck itself, or haunting the truck, but everyone is too polite to ask him if that's true.